Join the Mac universe with MacMap®.
MacMap® is user friendly and highly efficient. Draw-up your own maps with the sort of precision and flexibility that have made Mac products so successful. Each geographic element is drawn and included in the database as an Object, easy to manipulate with a mouse. Click on the map to select an Object. Double-click to open the Object's Information Sheet. The information is also made available on a Spreadsheet.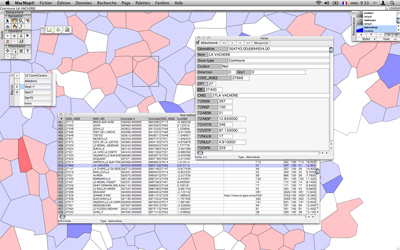 Get the best graphics package available.
MacMap® offers several ways of representing a geographic Object, depending on associated Information and Data. The software also provides proven Mac quality for CAP and CAD.
MacMap® is a simple yet very powerful tool, providing clean and tidy themed cartographic applications. The PDF functions allow Postcript printing, and exporting PDF documents to CAD tools (Illustrator, XPress, InDesign ...)
MacMap® includes as standard a number of visualisation and display functions (Patterns, Icons, Proportional views, ...) as well as other tools which provide simple solutions for complex projects, such as town planning: names displayed along segments, icon rotation, dashed line perimeters, choice of forms at the extremities and angularity, text clipping ....
Each layer of information can be represented as many times as required: a road can be shown as a line with its name in text and further, useful information can also be requested from the database (name, justification, line spacing, ...)
MacMap® also allows you to generate Rasters in JPEG, PNG, and TIFF formats.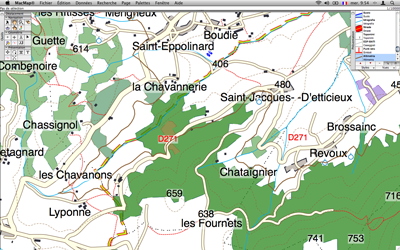 Creating Databases
MacMap® requires a geographic database to work properly.
If you want to change plans to other formats such as MIF-MID, DXF, ShapeFile, text etc. MacMap® includes the appropriate translators as standard.
To enable you to create your own database, MacMap® also includes advanced vector graphic drawing functions (input, re-working, ...). Most of these functions providing various aids for input and data capture are included in the Drawing and Transformation Packs (linking data capture points to the nearest existing Objects, correcting network topology, generating surfaces from lines and outlines, ...)
MacMap®, a formidable analysis tool
Get detailed responses with MapCalculator : edit and execute calculations, include information requests, geographic characteristics (at less than, at more than, inside, outside, ..), numerical values (surface, length, density, population ..) and pre-defined functions (sum, product, variance...). A univaried analysis module can be used to analyse statistical series and extract various indicators and graphic representations.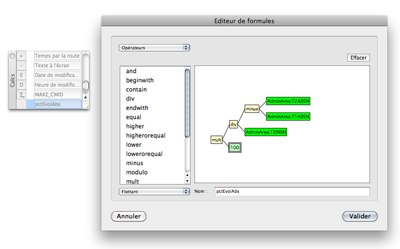 Localise information with MacMap®Geocoder : this tool integrates data from a text file into a MacMap® database. Once client and prospect data (address, name of road, number etc.) is inputted into the database, they will appear automatically in their correct locations on the map, thereby avoiding the time consuming chore of manual data capture.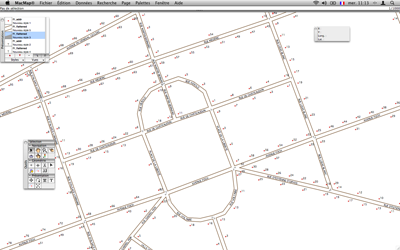 Analyse data with the Statistics Pack : make mono or multi criteria analyses (univaried, bivariate, Factor Analysis and PCA), as well as classifications (Clusters, mobile centres and Visual Matrix) for the data associated with your Objects. The 7 component functions in the Statistics Pack interact with one another as well as the map displayed on the screen.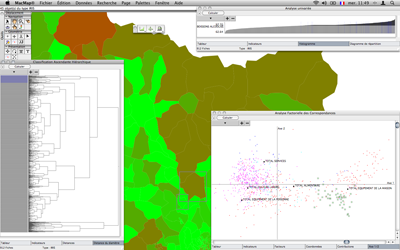 Explore access problems with the Itinerary Calculator: The Itinerary Pack functions can be used in different contexts: calculating travel time and distance by road, calculating isochrones, setting-up geo-marketing gravitational models, generating object "routes" ....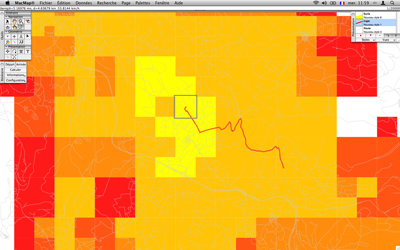 Plus...
Teaching and research solutions: MacMap® is available with a 5,000 object limit for the teaching environment with preferential rates for University Research Laboratories.